Membres du jury - concours Deru-vieuxtemps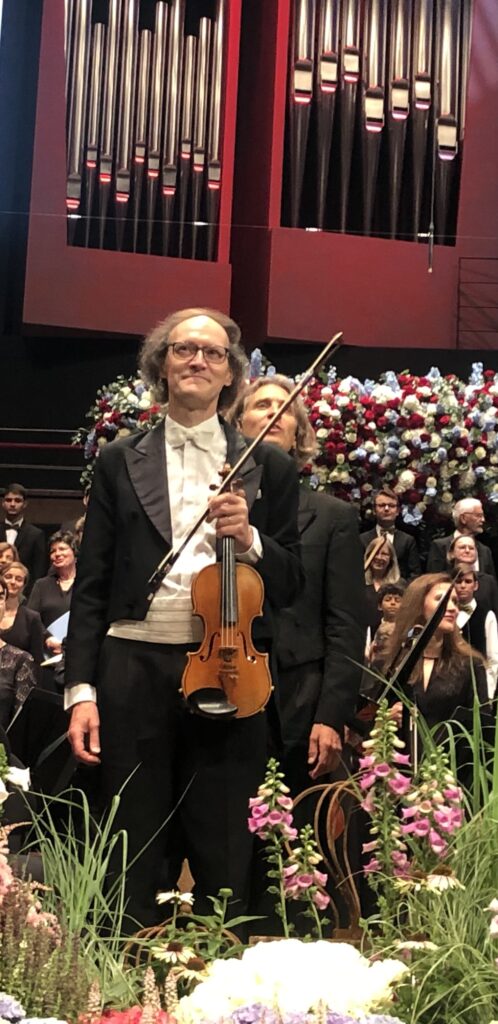 Président d'Honneur de l'Asbl Prix Artistique de la Ville de Verviers
Issu d'une grande famille de musiciens, Philippe Koch a fait ses études à Liège puis s'est perfectionné avec les Maîtres C.Ferras, P.Amoyal et A.Grumiaux. Konzertmeister de l'Orchestre Philharmonique du Luxembourg, il poursuit également une carrière de soliste à travers l'Europe, le Japon, les Etats-Unis et l'Amérique du Sud, ce qui lui permet de jouer accompagné par de nombreux orchestres et de côtoyer des chefs réputés tels que P. Jaervi, E. Krivine, Y. Ahronovich, A.Dmitriev, et de jouer dans des salles prestigieuses (Philharmonies de Berlin, Bruxelles, Luxembourg, P.Casals Hall Tokyo, Center of Arts Seoul…)
Passionné de musique de chambre, il en explore la diversité au sein du Trio Koch, avec sa fille Laurence (violon) et son fils Jean-Philippe (piano), du Trio Grumiaux, et du quatuor Louvigny. Professeur de violon au Conservatoire Royal de Liège, il donne également des master classes en Belgique, France, Luxembourg, Japon, Corée et est régulièrement membre du jury dans divers concours internationaux (Reine Elisabeth,Ysaye, Vieuxtemps, Grumiaux…); intéressé par la direction d'orchestre, il est aussi invité à diriger divers ensembles.
Sa discographie (plus de 35 CD allant de Mozart à Bussotti) a reçu plusieurs distinctions prestigieuses dans la presse spécialisée internationale (2 Diapasons d'Or, Choc-Monde de la Musique, Répertoire, Pizzicato…).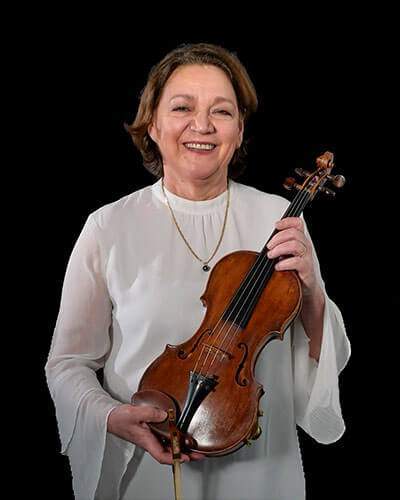 Brillante lauréate du Concours Musical International Reine Elisabeth
de Belgique en 1980, Véronique Bogaerts poursuit une remarquable
carrière de soliste et de concertiste, tant en Belgique qu'à l'étranger.
De nombreux concours internationaux et des tournées dans toute
L'Europe et en Extrême-Orient et en Amérique, marquent la carrière
de cette violoniste sensible.
A chaque prestation, la presse salue sa riche et belle sonorité, son élégante virtuosité, sa sensibilité
authentique dans la tradition de la prestigieuse Ecole belge du violon: l'artiste a été entièrement
formée par Maître Carlo Van Neste.
Parfaite chambriste, elle joue aussi bien en duo violon-piano qu'en trio ou quintette à cordes et en
quintette à clavier (Ensemble César Franck). Son répertoire très étendu lui permet également
d'interpréter avec des chefs réputés de nombreux concertos de toutes les époques, qu'elle eut
l'occasion d'interpréter avec des chefs réputés.
Elle siège régulièrement dans les jurys de concours internationaux dont le Concours Musical
International Reine Elisabeth en 1997 et 2001 et le Concours de Prague en 2004.
Cette femme hors du commun est tout autant reconnue pour ses talents pédagogiques. Débutant sa
carrière d'enseignante au Conservatoire Royal de Bruxelles à l'âge de 18 ans comme chargée de
cours, elle fut ensuite nommée Professeur de Violon au Conservatoire Royal de Musique de Mons.
Véronique Bogaerts est actuellement professeur de violon au Conservatoire Royal de Musique de
Bruxelles depuis de nombreuses années. Responsable de l'avenir de ses étudiants, elle y est
Présidente du Conseil d'option cordes. Elle enseigne également au Centre Eduardo del Pueyo et fut
Professeur Extraordinaire à la Chapelle Musicale Reine Elisabeth de 1997 à 2004. Parmi ses élèves,
nombreux jeunes talents déploient leurs ailes, dont Lorenzo Gatto, Vincent Hepp, Stéphanie de
Failly, Elisabeth Wybou,….
Véronique Bogaerts joue un magnifique violon de Jean-Baptiste Roggerius de 1699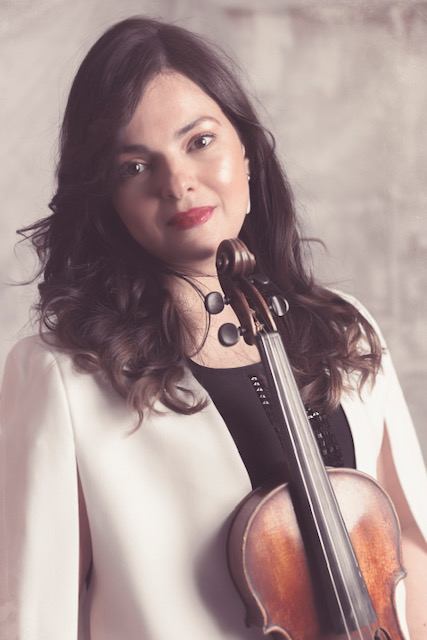 ABOUT
_

TATIANA

One of the most inspiring violinists of our time, Tatiana Samouil is in constant demand as a soloist, recording artist, chamber musician and pedagogue.

An ambassador of the Russian School, she starred alongside Yuri Bashmet at the closing ceremony of 2014 Olympic Games in Sochi (Russia) performing for a live audience of fourty thousand people, as well as an almost three billions online broadcast, worldwide. It comes as no surprise that her name appears in 

The Golden Book of Twenty to Twenty First Century Talents of Russia

, stored in the Kremlin Palace. 

»Samouil's strong-willed, passionate and inspired playing is the direct continuation of the best traditions of Russian violin school«

 (Kultura, Moscow, June 2002).
EDUCATION & COMPETITIONS
Born into a family of eminent musicians, Tatiana was constantly surrounded by music. From the age of 3 she was already playing piano, only to discover her voice on the violin two years later. At this age she also displayed a precocious interest in composing her own music. The key moment for her came when she was nine years old. She played her debut with the National Orchestra of Moldova, under the baton of her father, Alexandru Samoila, and was so moved by that experience that she decided to dedicate herself to the violin.
Tatiana Samouil was selected by the Russian »New Names Program« at the age of fourteen and commenced an active touring at the most prestigious concert halls of Russia and Europe, performing also in the Vatican Residence for the Pope John Paul II, at the UN Headquarters in Geneva and for UNESCO in Paris. She moved to Moscow as a young girl in order to study with the legendary Maia Glezarova at the prestigious Moscow Tchaikovsky Conservatory. There, she obtained her Soloist's Diploma 
with extraordinary mention
. She then moved to Belgium to continue her studies with the great Igor Oistrakh at Brussels Conservatory. Under his guidance, and in a period of only three years, Tatiana Samouil won prizes at seven of the most prestigious international violin competitions, most notably the »Tchaikovsky International Competition« in Moscow (2002), the »Queen Elisabeth Competition« in Brussels (2001), the »Michael Hill International Competition« in New Zealand (2001) and the »International Jean Sibelius Violin Competition« in Helsinki (2000).
Presently, she is performing around the world, despite her near fatal accident in 2014. It left her hospitalised for a long period, unsure of whether she would be able to walk or play the violin again. Her recovery is nothing short of miraculous. Tatiana's comeback concert happened to be in no less then »Salle Gaveau« in Paris, live, recorded on French TV.
CAREER
This season alone, Tatiana Samouil will be performing in the Berlin Konzerthaus, the Seoul Art Center and Flagey in Brussels, along with performances in New York, Sochi, Moscow, Amsterdam, Izmir, Istanbul and Saint-Petersburg.
She often shares the stage with other great musicians of our time; Yuri Bashmet, Denis Matsuev, Maxim Vengerov, Vadim Repin, Gautier Capuçon, Gérard Caussé, Augustin Dumay, Frans Helmerson and Gary Hofmann have performed alongside her. Tatiana has enjoyed performing with the conductors such as Antonio Pappano, Christian Arming, Kazushi Ono, Dmitry Liss, Gilbert Varga, Jean-Jacques Kantorow and many others.
Tatiana Samouil has performes with numerous notable orchestras: the Belgian National Orchestra, Brussels Philharmonic, La Monnaie Symphony Orchestra, Liège Royal Philharmonic, Russian National Orchestra, St.Petersburg Symphony Orchestra, »Novaya Rossiya« Orchestra, Nizhny Novgorod Philharmonic, Khabarovsk Philharmonic, Klassische Philharmonie Bonn, Bayerisches Kammerorchester, Presidential Orchestra of Turkey, Izmir State Symphony, Orquesta Filarmónica de Buenos Aires (Teatro Colón), Salta Symphony, Finnish Radio Orchestra, Auckland Philharmonic Orchestra, Odessa Philharmonic, Orquesta Filarmonica de Montevideo (Uruguay), Franz Liszt Chamber Orchestra (Budapest), Sofia Radio Symphony Orchestra, Orquestra Sinfónica do Teatro Nacional de São Carlos (Lisbon) and South Czech Philharmonic.
As a founding member of Malibran quartet, Tatiana is breaking ground, exploring the magical repertoire of a string quartet.
Tatiana is a passionate pedagogue. She is Professor of Violin at the prestigious Chapelle Musicale Reine Elisabeth (Queen Elisabeth) as well as at the Antwerpen Royal Conservatory in Belgium. She is also Professor of Violin at the Musikene Superior Arts Center in San Sebastián (Spain). As a permanent member of Yuri Bashmet Academy, she gives masterclasses all over Russia. Tatiana is regularly invited to perform with Yuri Bashmet and his »Moscow Soloists« Orchestra, as well as »Novaya Rossia« Symphony.
Since 2003 Tatiana has been regularly touring South America. After a successful debut in Teatro Colon, she was invited to perform in Presidential Palace in Santiago and at Quinta Vergara Open Air Festival for 10.000 people. The longtime collaboration was marked by a recording of the Luis Gianneo Violin Concerto with Salta Philarmonic for 
Sony Classical
 record label, the State project dedicated to 200 years anniversary of Argentina. The success of this CD brought it to the nomination for the 
»Best Classical Release of Latin America 2009«
.
RECORDINGS
Tatiana Samouil's numerous recordings and distinguished discography mirror her musical passion and adventurous spirit. Besides recording for 
Sony Classical
, Tatiana has nearly 20 CD's. Her recording of works by Eugène Ysaÿe with the Liège Philharmonic under the baton of Jean-Jacques Kantorow received »Diapason d'Or«, the highest award of the French Music Magazine »Diapason«.
The recording projects of the near future will continue to explore the Belgian heritage with the string quartets of Albrecht Huybrechts as well as a new recital CD »The French Touch« with David Lively.
VIOLINS
Over those years, Tatiana had a privilege of long term performing and recording on phenomenal instruments, like the Guarnerius del Gesu violin »ex-Vieuxtemps«, the Antonio Stradivarius »ex- Kreisler«, as well as a violins of Jean Baptist Vuillaume and Francois Pique.

At present, Tatiana is playing on a Nicolo Gagliano (1770) and a modern violin of Christian Bayon, built specially for her.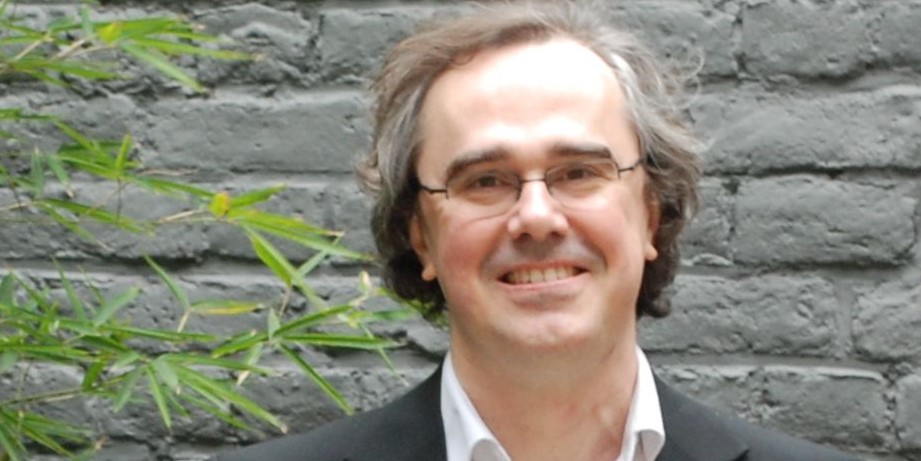 Jean-Gabriel RAELET a étudié le violon avec Emmanuel KOCH au Conservatoire Royal de Musique de Liège et avec le violoniste Jean FOURNIER, à Paris et à Salzbourg.
            En 1994 et 1995, il remporte plusieurs prix : le Prix Jeunes Talents de la Province de Liège, le Premier Prix du Concours HENRI VIEUXTEMPS, et le Premier Prix Igor Oïstrakh du Concours CESAR FRANCK.
            Depuis 1995, Jean-Gabriel RAELET occupe le poste de Konzertmeister à l'Opéra Royal de Wallonie, et en septembre 2011, il est désigné Professeur de musique de chambre au Conservatoire Royal de Liège.
            Jean-Gabriel RAELET s'est produit en soliste dans le 3ème concerto de Mozart, avec l'Orchestre Philharmonique de Liège, dans le 4ème concerto de Mozart, le concerto de Beethoven et celui de Brahms, avec l'Orchestre de l'Opéra Royal de Wallonie. Il poursuit sa carrière de chambriste au sein de diverses formations : DUOPERA (violon-piano), TRIOPERA (trio à clavier), Ensemble CASSIOPEE (Quatuor et Quintette à cordes) et QUATUOR 887. En octobre 2011, il se produit en Quintette à clavier avec le pianiste Christian ZACHARIAS. En juin 2017, il joue un récital de sonates au Bulgaria Concert Hall de Sofia avec le pianiste Peter PETROV.
            Durant plus de 11 années, Jean-Gabriel RAELET a dirigé l'Orchestre de chambre d'Ottignies-Louvain-la-Neuve. (www.ocolln.be). En juillet 2014, Jean-Gabriel RAELET dirige l'orchestre universitaire de Liège (CIMI) lors d'une tournée de 3 concerts en République tchèque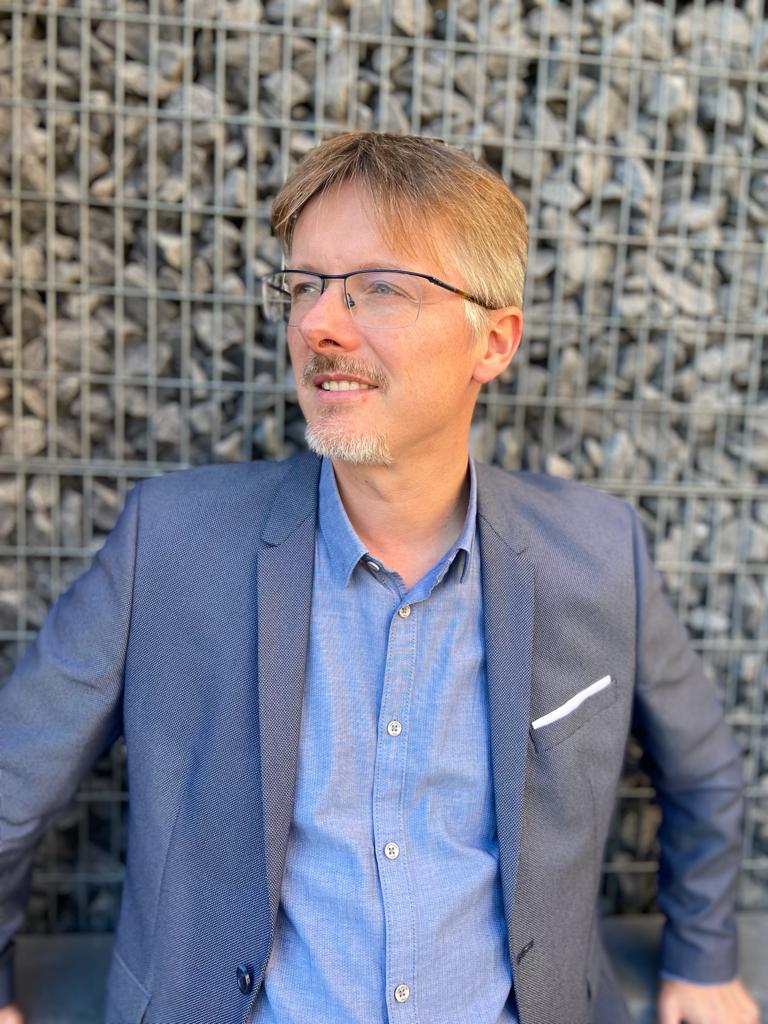 Olivier Giot a manifesté très jeune son attirance pour la musique, qui est devenue pour lui non seulement un métier, mais surtout une passion dont il ne saurait se passer.
Il a commencé l'apprentissage du solfège à 5 ans ½, la pratique du violon à 6 ans ½ et celle du piano à 7 ans ½, à l'Académie de Musique de Bouillon (Province de Luxembourg). C'est précocement, âgé de 11 ans, qu'il termina cet enseignement académique où il s'enthousiasma pour tous les genres dans lesquels il s'est toujours distingué : violon, piano, solfège, musique de chambre, orchestre, improvisation, jazz, …).  Mais, il a développé très tôt une préférence pour le travail en orchestre et en musique de chambre.
Il réalise sa formation musicale au Conservatoire de Liège, et obtient premier prix et diplôme supérieur de violon dans la classe de M. Richard PIETA. 
Parallèlement, il perfectionne et diversifie sa formation en masters classes avec :
M. Olivier CHARLIER, Professeur de violon au Conservatoire Supérieur de Paris (1997)
M. Franco GULLI (1998)
M. M. BEZVERKHNY au Conservatoire de Musique de Gand (année 1999-2000)
Son parcours professionnel débute déjà en 2000 par un engagement d'assistant – chargé de cours de violon dans la classe  de M. Richard PIETA au Conservatoire Royal de Musique de Liège, jusqu'en 2012.
De 2001 à février 2009, il est engagé au poste de 1er soliste – chef d'attaque des seconds violons au sein de l'Orchestre Symphonique de Limbourg à MAASTRICHT  (Pays-Bas).  Depuis février 2009, il occupe la fonction de 1er soliste – chef de pupitre des premiers violons à l'ORCHESTRE  ROYAL PHILHARMONIQUE  de  LIEGE (O.P.L.).
A l'heure actuelle, Mr Giot assure les fonctions de 1er soliste des 1ers violons et de suppléant – concertmeister à l'Orchestre Royal Philharmonique de Liège et poursuit son ambition pour la musique de chambre.